Personalised Cubbies Cubbyford Grey Teddy Bear With Stars

BG-8739
This charming grey personalised Cubbies Cubbyford teddy bear comes professionally embroidered with the child's name in the format [Name]'s Bear in blue thread. The teddy's tummy is also embroidered with blue stars making this a lovely gift idea for a baby boy's birthday or other special occasion.
This official Cubbies toy is made to a very high standard with top quality materials. Please check your personalisation carefully before submitting your order.
Features
Personalised grey Cubbies Cubbyford bear.
Official Cubbies plush toy.
Embroidered with any name in the format '[Name]'s Bear' in blue thread.
Embroidered with blue stars and finished with a matching ribbon.
All personalisation is case sensitive; no special characters or emojis.
Carries the CE safety mark, however all ribbons and tags should be removed prior to giving to baby.
Removable stuffing pod.
Height approx. 30cm (11 inches).
Suitable from birth.
Machine washable (remove stuffing pod first)
Whether it's for a birth, Christening, first birthday, or Christmas this gorgeous bespoke blue teddy bear is sure to be a huge hit with any little boy lucky enough to receive one!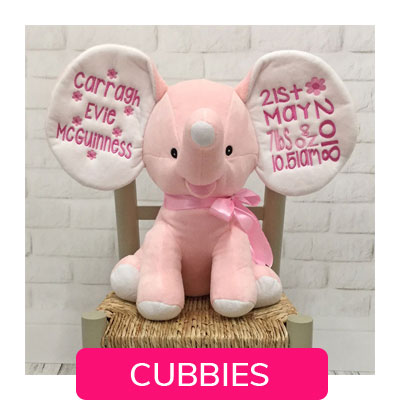 click for more from this brand
you might also be interested in ...