This beautifully-crafted wooden London Bus by Lanka Kade is undoubtedly one of our favourite vehicle play sets. It comes complete with 14 individual passengers plus a bus driver and conductor! The top of the bus lifts off to allow access to the upper deck, lower deck and passengers. Expertly hand-painted with bright, non-toxic paints, the bus is the number 23 and the destination on the front says Oxford Circus, Paddington Station and 'Trafalgar Square'.
This heirloom quality toy would be suitable for a really special birthday and is perfect if you really want to treat a child. Manufactured from sustainable rubber wood by workers in Fair Trade factories in Sri Lanka.
Features
Deluxe London Bus by Lanka Kade.
Made from sustainable rubber wood.
Fair trade product.
14 removable passengers with bus driver and conductor.
Lift-off top to gain access to interior.
Hand painted in non-toxic paint.
Suitable for ages 3 years and above.
Approximate dimensions 35cm x 22cm x 13cm.
Only posts to UK mainland.
This fabulous showcase wooden toddler toy would make a very special gift for a lucky girl or boy.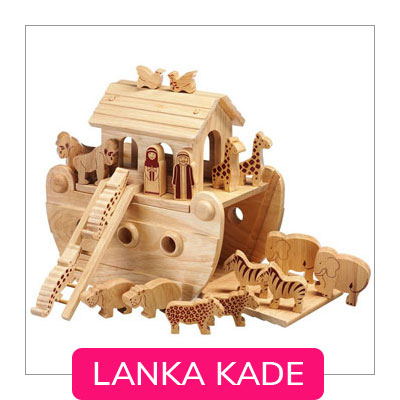 click for more from this brand
you might also be interested in ...