This impressive and colourful Fair Trade rainbow noah's ark by Lanka Kade is hand-crafted from wood and then brightly hand painted. It features 9 pairs of animals and Mr & Mrs Noah. The top is fully removable and the front panel slides out to allow access for the animals and a ladder to help them to reach the top, the top deck area is left open for the animals to 'roam'.
Features
Large Rainbow Noah's Ark.
By Lanka Kade.
Made from MDF gathered from sustainable wood sources.
Hand painted.
Made under strict Fair Trade conditions in Sri Lanka.
9 pairs of animals and Mr & Mrs Noah.
Fully removable top and slide-out front panel.
Includes a ladder and open deck area.
Approx. product dimensions: 475mm x 244mm x 308mm.
Recommended for use by age three years and above.
Manufacturer's code: BU04.
Strictly tested to all relevant European toy safety standards.
This fabulous ark is truly awe-inspiring. Brightly painted and heavyweight, it is sure to be a favourite for many years to come.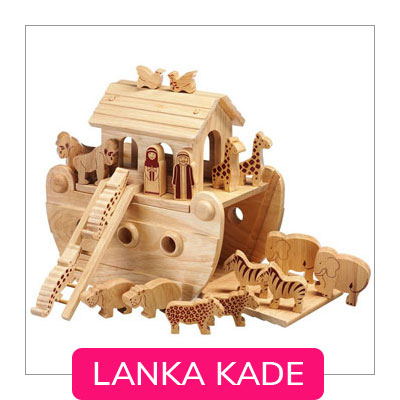 click for more from this brand
you might also be interested in ...