This delightful official Cubbies white Unicorn baby toy comes professionally embroidered with your little girl's full name and birth details. This bespoke teddy makes the ideal gift to welcome a little girl into the world. This top quality Cubbie toy is made from superior quality materials and carries the CE European safety logo.
This large-sized, cuddly unicorn is sure to be a huge hit with any lucky little girl. Not only does this provide a new cuddle companion but it makes a great keepsake gift too!
Features
Personalised Cubbies white unicorn toy.
Official licensed Cubbies teddy.
Made from top quality pink and white plush.
Carefully embroidered with the girl's full name, date of birth, time of birth and birth weight.
Professionally embroidered in pink and purple threads (or your choice of colours)
All personalisation is case sensitive; no special characters or emojis.
Carries the CE safety mark, however all ribbons and tags should be removed prior to giving to baby.
Height approx. 35cm (14 inches).
Suitable from birth.
Cubbies feature a removable stuffing pod which allows the product to be embroidered; this is ideal and you can remove these to clean the toy. Some customers choose to remove the pods and use the teddy as a pyjama case! Either way we guarantee the recipient will be thrilled to receive one of these gorgeous white unicorns.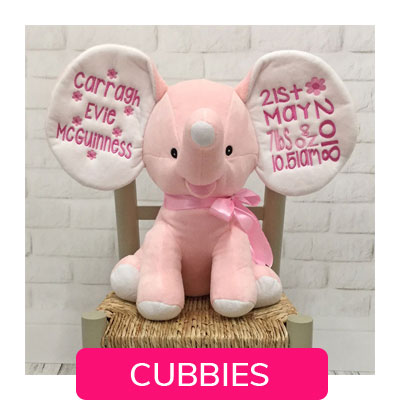 click for more from this brand
you might also be interested in ...